Tile and Grout Cleaning in El Dorado Hills
Contact California Xtreme Steam Today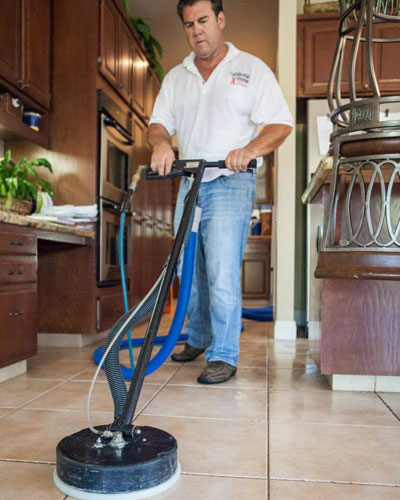 Give your tile floors the care they deserve while treating yourself to the freedom from having to clean them yourself. Turn over the task to our experts in flooring cleaning. With our professional tile and grout cleaning, your tile floors get as clean as possible. Thanks to our extraction process, we can remove dirt and stains without leaving any sticky residue behind.
Why Grout Seems to Stain Easily
Grout is the filling between the tiles. After installation, the grout should have a sealant applied to close the natural pores in the material. However, over time, the sealant will wear off. When this happens, the grout stains more easily. Plus, since the grout is often slightly lower than the level of the tile, dirt can settle along the grout lines. Therefore, you should have professional cleaning to remove the stains from your grout and reseal it to keep it looking great.
Tile Cleaning from California Xtreme Steam
Our professional tile and grout cleaning service gives you clean flooring throughout your home. Plus, we protect the grout against future staining. In fact, we can maximize the removal of stains so well that we offer a guarantee. For up to 30 days, if you see stains come back, we will reclean the area for free to get the stains out for good.
At California Xtreme Steam, we use a truck-mounted hot water extraction system for our tile and grout cleaning. The water heats to over 200 degrees Fahrenheit. This high heat level forces stains and dirt out of the tile and grout in your home.
We Seal Your Grout for a Longer-Lasting Clean
After cleaning your floors, we seal the grout to protect it from future stains. Options include a standard sealant or a colored acrylic-based option. The latter gives you the chance to get your tile clean and update the look of your floors with new grout color.
Ideally, you should have your grout sealed at least once a year to keep the sealant intact, reduce staining, and maintain the grout's color. Let us handle the sealing of your grout and the cleaning of your tile when we visit.
Tile Cleaning El Dorado Hills Residents Rely On
Your tile floors work hard to hold up to foot traffic. Treat them well with professional grout and tile cleaning. While our company, California Xtreme Steam, has its base in El Dorado Hill, CA we also serve the surrounding areas, including the following locations:
Folsom
Greater Sacramento area
Granite Bay
Cameron Park