Carpet Cleaning in El Dorado Hills
Contact California Xtreme Steam Today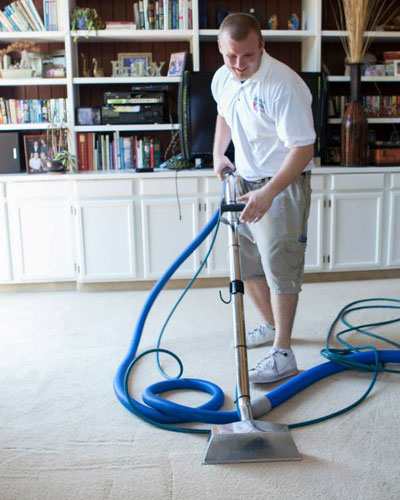 The carpets in your home can hold onto dust mites, pet allergens, and stains until you get them cleaned. With our professional cleaning services that include truck-mounted steam cleaning and many other options, we can guarantee that your carpets get cleaned properly. If you see stains rise in the carpet for up to 30 days after the cleaning, let us know. We'll come back to reclean your carpets at no cost as part of our satisfaction guarantee.
What Methods Do You Use for Carpet Cleaning?
We use several types of cleaning methods for carpet and rug cleaning. These methods include:
Truck-mounted steam cleaning: This method is the most powerful way to get carpets thoroughly cleaned and uses a combination of steam and cleaning solution to power through stains. A suction hose draws the excess water and stains out of the carpet.
Bonnet cleaning: Between deeper steam cleanings or if your carpet has only used bonnet cleaning, we offer the bonnet cleaning option. This method has a cleaning product-infused pad that breaks up stains as it passes over them. The stains soak into the cleaning pad.
Are the Cleaning Chemicals Safe for Kids and Pets?
The cleaning chemicals that we use for all our methods are non-toxic. Plus, they're environmentally friendly, and you won't have any residue in your carpets. After we finish, you will only have fresh-smelling, stain free carpets.
How Do I Get Ready for Carpet Cleaning?
To prepare for our carpet cleaning services, remove anything loose covering your carpets. Therefore, you'll need your kids, pets, or other family members to pick up any belongings from the floor before we arrive. Plus, you should move large pieces to allow us to clean under them. To get the best results, vacuum your carpets before our arrival to remove surface dirt, which will let our cleaning system remove the deeply embedded dirt and stains more easily.
How Long Does the Carpet Need to Dry After Cleaning?
Most cleaning methods will only require four to six hours to dry. However, if you have more intensive cleaning, your carpet may need up to 24 hours to thoroughly dry. The technician will give you a more precise time after completion.
How Often Do I Need to Schedule Carpet Cleaning?
Ideally, you should have your carpets cleaned once or twice a year, depending on the amount of foot traffic over the floors.
Do You Offer Carpet Cleaning Near Me?
We serve the greater Sacramento, CA area. Our El Dorado Hills-based company serves the following areas:
Folsom
Greater Sacramento
El Dorado Hills
Cameron Park
Granite Bay
And other nearby locations